För min del händer det mycket i november. Förutom min egen födelsedag är det en massa olika events och så födelsedagar. Alla vill vi väl anordna ett bra party, och det finns inget som jag stör mig mer på än om ett "event" är dåligt planerat eller organiserat. Erkänner dock att det kanske kan vara lite svårt om man ej är van vid att "through these type of stuff". Så nedan följer lite tips dels från Jeremiah Brent (jobbar för Rachel Zoe) och även från Cosmopolitan.
STEP 1: Set the foundation of your table by laying out a chic table runner or tablecloth—I love white linen with gold trim. The overall idea is to play with the idea of mixing golds and silvers. I love to mix metallics, so don't be afraid to try it, the effect is really quite stunning and very holiday-appropriate

STEP 2: Arrange simple dishware that's affordable (but looks expensive)—like Z Gallerie's Paramount Dinnerware Set—and blend it with your own personal vintage pieces. (här kan jag tipsa om XXXLutz som har en massa bra affordable dinnerware) Layer, mix and match them. Never go for an all monochromatic look—play with colors. The more contrast the better.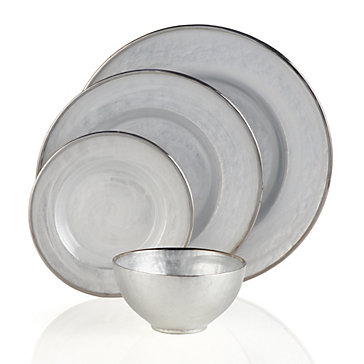 STEP 3: Lay out an elegant set of napkins accordingly. This part is a great example of how interiors can compare to how you would style an outfit—add napkin rings as the "jewelry" to the table. They will add character and a little extra sparkle.

STEP 4: Place decorative bowls as a fun way to add unique texture and personality to the table while also being functional—don't forget to fill them with delicious food! Also, chic salt and pepper shakers are a must! How major is this set from L'Objet?

STEP 5: For lighting, position candlesticks down the center of the table (in glass or Lucite so you can see through them). Don't be afraid to cluster up different sizes and mix it up with little votives. Nothing should be perfect.


STEP 6: Arrange place cards accordingly. I love silver

giftbox placecard holders

because they also serve as a chic gift for your guest to take home and decorate their house (or tree) with.

STEP 7: The final step to setting your glam holiday dinner table is to select a stunning centerpiece. I like to keep things clean and simple with a single variety of peonies or roses in white—Empty Vase is my go-to shop in Los Angeles for florals—with silvers and gold embellishments mixed in. For high-impact, choose a metallic vase.

Follow these steps and you'll have set a divine dinner table indeed!
xoxo,
Vicky
Follow Me on Twitter
VicktoriaM