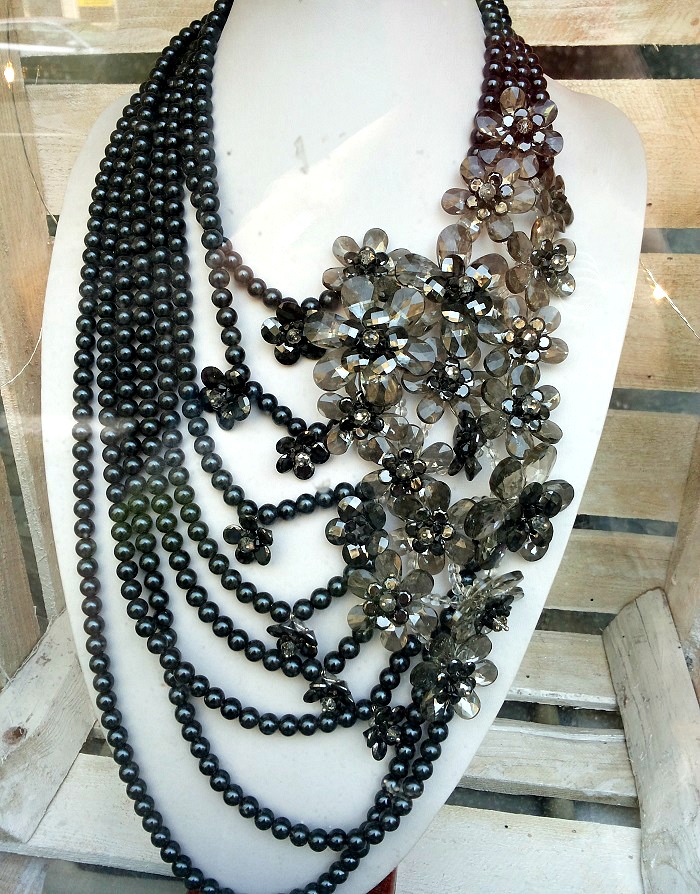 How to wear a statement necklace.
I tend to cycle through jewelry. Sometimes I find myself searching for new and fabulous rings, sometimes it's bracelets that I crave and still other times, I can't get enough earrings. There's no rhyme or reason to this. One day I wake up and a specific item is on my wishlist. Right now, I'm craving necklaces. Delicate chains with charms perfect for layering, big bold stones and gorgeous architectural shapes, I just can't keep my hands off of them. The beauty of a statement necklace is that it's all in how you style it and you don't need to spend a wallet full of money to update your look.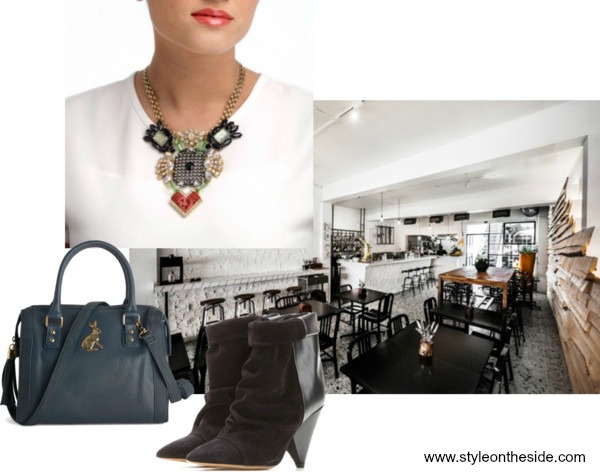 HOW TO WEAR A STATEMENT NECKLACE
With a shirt.
This is a very classic look. Think crisp white shirt with a necklace peeking out. For a twist on this look, try wearing the necklace over the shirt like you would a tie. Think of the white shirt as the ideal canvas for your favourite piece. When working with a white shirt, a white enamel necklace will be a sophisticated choice for a clean monochromatic look. If you are craving more flash then go for colour, the bolder and brighter the better. For an on trend twist on this look, opt for a chambray or denim shirt with a colourful necklace.
With a little black dress.
This is another classic that conjures up images of pearls and a big bold pearl necklace will certainly make a beautiful statement. You do, however, have so many more options with a little black dress. For day, go for colour. As much as I love black, it can make your complexion look a little bit pale, especially in winter, so this is the time to be bright. Choose your favourite colour and you'll be good to go. For night, up the drama factor with lots of sparkle.
With a solid.
This is your perfect chance to really show off that amazing piece of neck candy. Your favourite shift dress in any colour suddenly becomes a standout when paired with a large statement necklace. Or how about taking an all black outfit, I'm sure everyone can find this in their wardrobe, and pairing it with a couple of layered necklaces? Black is a neutral, so any colour will do, just don't be afraid to mix it up.
With a pattern.
This can be a little scary, but if you stick to some of the basic rules of
how to mix prints
then you will have a fantastic ensemble. Say you are wearing a great plaid shirt. Simply ensure that your statement necklace matches one of the colours in your top.
With a casual outfit.
Even if you spend most of your day in casual wear like tees and jeans and sweatshirts, you can absolutely still wear this with a statement necklace. I love a bright necklace over a simple tee or even a bib necklace that matches your neckline, so it looks like its part of the shirt. Pair this with your best flats for a casual yet pretty outfit.
Whether you choose a daintier style or a larger bolder necklace, everyone can find their ideal look. Combined with patterns and interesting textures, it will give you a striking look whereas a sleek monochromatic ensemble will let the details of your piece really stand out. No matter whether your style is casual and eclectic, boho chic, elegant and sophisticated or dramatic and daring, there's a necklace out there for you.
Will you be wearing a statement necklace this season?
x,